ALL - STAR DAY
Please join us August 5th at Lions Park for games in all divisions. 

Mustang 9am - American: Johnny Mac and Village Place
                             National: TSS Photography and WOW!
Bronco 11:30am - American: Keypoint Interactiveand Premium Sealcoating
                            National: World Class Marine and Szott Automotive
Pony 2pm - American: Vaughn's Interiors and Airway Lanes
                                 National: Chet's Cleaning, Don Coffey and Stumpy's
Colt and Palomino 4:30pm - American: Triple J (Colt)and 1 Stop Computers (Palo)
                 National: Former WCA Coaches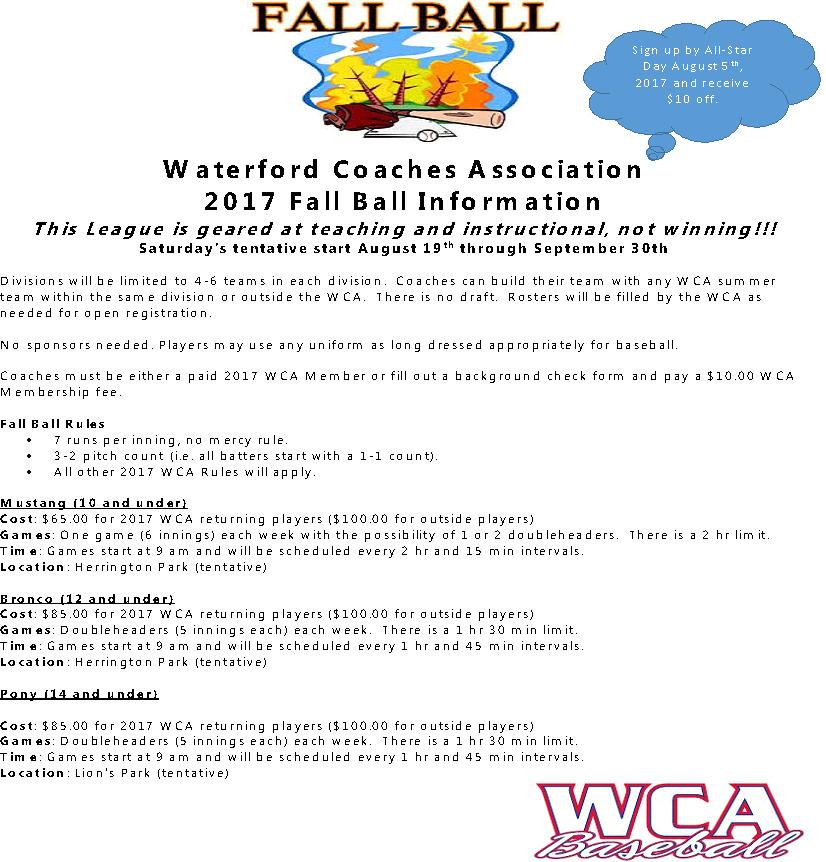 Score Reporting:
Mustang/Bronco/Pony (when playing WCA Team): 
Winning coach is to report the following for both teams:
1. Score.
2. Pitchers with number of innings and pitches thrown.
3. Catchers with number of innings played.
Pony: When playing against a non-WCA team, please report the above information win or lose.

Want to play? Get in touch!
If you would like to join our league, sign up or contact us to find out more information.
Email
Mailing Address
PO Box 300201, Waterford, MI 48330
Our Leagues Enjoy:
14 Regular Season Games, Plus Playoffs
Facilities Provided
Uniforms included
Referees, Umpires & Administrators
Opening Day and All-Star Saturday Activities
Connect with us: